Newton Alumni Website
Welcome to the Newton Iowa Alumni website. The purpose of this site is to communicate upcoming alumni events and reunions. We've added venue ideas for the class reunion planning committees and class rep information. It also contains information regarding the history of the Newton Senior High School and schloraships that have been awarded to deserving graduating Seniors.

NHS Alumni Weekend - June 14th - 15th, 2024
All Class Reunion Info
The All Class Reunion will be at TBD
We are no exception to the rising prices that we all experience as we plan for our events. This announcement reflects our financial needs to support this celebration.
Cover Charge of $5 per person benefit "Dollars for Scholars"
The NEW Murph and Mary's (fka Peanut Pub) will be the alcohol vendor. Gezillig Brewery, along with Food trucks will be open at the venue as well.
Classes will be assigned their tables, Class of 1978 will be selling Pee Chee T-Shirts as part of their ongoing philanthropy efforts towards Newton Sr. High. Newton Booster Club will be selling items as well at our event this year.
We will be reaching out to class reps, or contact us ASAP. Tickets can be purchased at the entrance, but we request advance purchase so we can plan food accordingly. Follow the link below to purchase your tickets.
Please email: konibunse@yahoo.com ASAP as to where your Saturday Night class reunion will be held so she may enter the information. Information as to venues are on the Reunion Info tab.
Saturday brunch and Hall of Fame will start at 9:30am at NHS upper gym. Doors open at 9am - Tickets $15 per person
***** ONLINE PURCHASERS ONLY ***** TWO entrances for the NHS ALUMNI WEEKEND! $15 pp. Friday Night and Saturday BRUNCH/HOF events!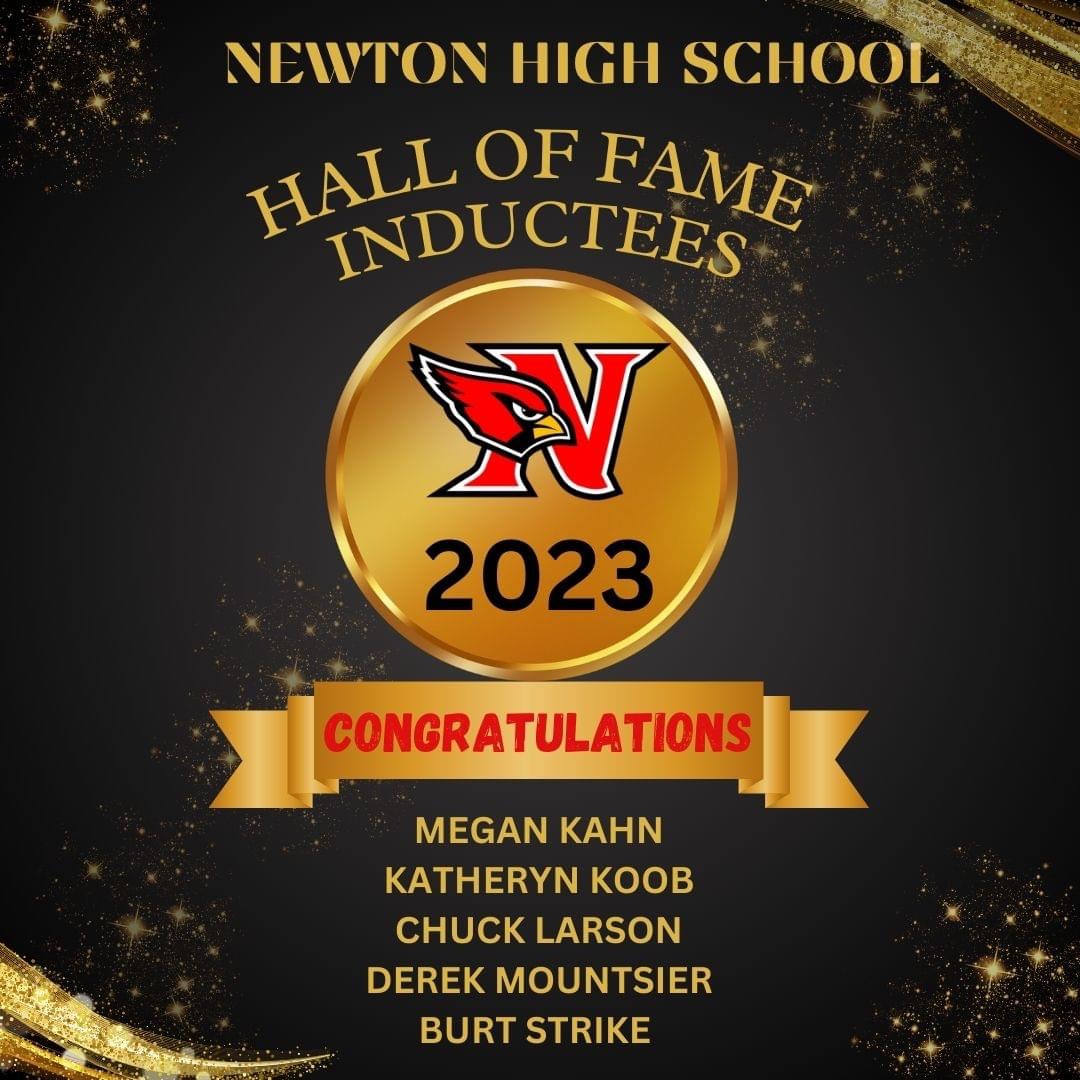 2024 HALL OF FAME INDUCTEES: TBD
NHS HOF Application in the margins follow the Link: Taking applications till April 1st 2024

Class reps can accept payments, if they so choose, for their class. Or you can mail your payment to Newton Alumni Assn. PO Box 623, Newton, IA 50208. Online payments at link below.
Golf Tournament
The Jack Chadwick Annual Golf Tournament will be hold 2 flights this year. First flight tees off 8am second tee off 1pm at Westwood Golf Course on Saturday, June 10th (Rain date Sunday.)
Please call Brad at (641) 792-3087 to reserve your spot. Teams of 4 are $300... $75 per person paid on the day of the event.
https://facebook.com/events/s/the-jack-chadwick-3rd-annual-g/391587832817380/
Sponsors are needed to sponsor the weekend. Show your Red Pride support! Different levels of Sponsorship will be available!
Class Window Contest
The class window setup will continue as always. All classes celebrating their reunions are invited to participate. Be sure to contact the business early to reserve your window. Share your window location for us to update.
Awards are given for most creative, most nostaglic, and best overall at Saturday's Brunch.
Tickets Will Be Available in April 2024
https://www.gobound.com/ia/schools/newton/tickets
Become a member of our Newton Alumni
SPONSORSHIP OPPORTUNITES
BRONZE LEVEL - $150.00 Sponsorship at the Bronze Level places your name or business logo on a banner at the Friday Night All Class Reunion as well as, the Alumni/NHS Hall of Fame Program distributed at the Saturday Brunch. In addition, business logos will be placed here on our website as well as listed as a thanked sponsor in the NHS Alummi newsletter which is distributed twice a year to a readership of Cardinal graduates.
SILVER LEVEL - $250.00 Sponsorship at the Silver Level includes all the benefits of the Bronze Level and in addition includes a laminated sign of your name or business logo on either a hole or tee box during the Jack Chadwick Classic Golf Tournament. Each year the tournament roster fills to capacity and sponsorship provides a highly visible way to market your business.
GOLD LEVEL - $400.00 Sponsorship at the Gold LEVEL includes all the benefits of the Bronze and Silver Levels, as well as, 2 entries to the Jack Chadwick Classic Alumni Golf Tournament. Entries in this popular tournament would make a great gift or provide a unique networking opportunity as well as, a day of fun on the golf course. Wait, there's more: 2 tickets for FRIDAY NIGHT, 2 tickets for SATURDAY BRUNCH/HOF plus SWAG! It's a great way to market, promote your business, support NHS Alumni Association and have a weekend of FUN at the same time.
We're looking forward to another great weekend where family and friends will gather to celebrate all things Cardinal. As always, we would love to make you a part of the fun as well! For any questions and to sign your business or you personally, for sponsorship please contact: LORI GILMORE (gilmorel@newton.k12.ia.us)
The list of classes scheduled for Saturday Night reunions is on the reunion tab. It will be updated as we receive information.
Check out our Alumni News Facebook Page.
Thank You Sponsors of 2023!
Individual Sponsors:
The Archie Ergenbright Family

Marv (65') and Koni (72') Bunse
Corporate Sponsors:
Thanks to Advantage Real Estate, American Relocator, Caldwell & Brierly PLLC, Jerry Keenan Concrete, Rick's Amoco, Newton News, & Murph and Mary's Pub.

Subscribe To The Alumni Newsletter
Stay up-to-date on Newton High School Alumni that have been in the news.
The "Alumni News" is delivered bi-annually and packed with news, articles, and photos.